"Captain Abundance" Bo Sanchez, founder of TrulyRichClub.com relates:
One day, my friend – a wealthy businessman – was gently complaining to me about his parish church. ( I say "gently" because he is not the criticizing type. He said these words out of real concern.) He said, "Bo, almost every Sunday, my priest will stand in front of the pulpit, and will tell everyone, 'Don't look for money. Be content with what you have. Jesus was poor….'.
And as a businessman, I'd feel very uncomfortable sitting there on the pew, because 5 days a week, 8 hours a day, all I'd think about is how to earn money. And every Sunday, I feel very small. But here is the crazy thing. Whenever the church needs anything, the same priest will call me up and ask for my donations. So I gave P1M to the renovation of the church altar; another P1M to the new parish office, another P1M to repair the roof…. But every Sunday he'll tell everyone else in the parish to remain poor. Isn't that odd?
He continued, "What if I wasn't working on earning lots of money? What if I actually followed the sermon and shun wealth? Who would donate to his church?
This guy is what I call a Superhero of Abundance. He knows he doesn't own his wealth. He knows God lent him his wealth for His purpose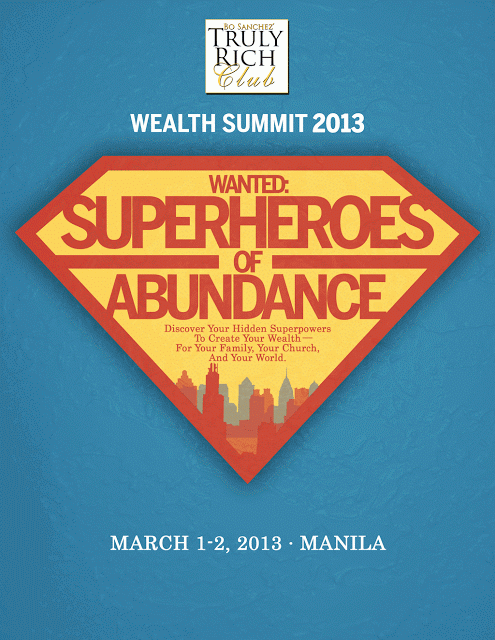 Superheroes of Abundance
"Captain Abundance" – Bo Sanchez
Bo Sanchez is the founder of the TrulyRichClub. It's battlecry – "Helping good people get rich." Thus, Bo has started a financial revolution among "good people" in the country today. He has written 29 bestselling books, spoken in 14 countries around the world including 36 cities in North America. He has also founded (or helped build), 12 non-profit ministries.
"Money Multiplier" – Rex Mendoza
Rex Mendoza is the President of Philamlife. Since he took over this giant company, he has turned it around and made it the fastest growing insurance company in the Philippines today. Rex is a super-employee, super-entrepreneur, and super-investor rolled into one. Rex is probably the most dynamic and inspiring financial speaker in the country today. The moment he stands on stage, forget everything else — you would not want to miss a single word!
"Millionaire Maker" – Edward Lee
Edward Lee is the Founder and Chairman of the Board of COL Financial, the #1 online stock trading firm in the Philippines. Edward has been creating billions in the stock market for the past 37 years.
Professor $$$ – Dean Pax Lapid.
Dean Pax Lapid is Professor of Entrepreneurship at the Prestigious Asian Institute of Management and Dean of Entrepreneurship of the TrulyRichClub, will help you start your own money-making business. Dean Pax runs 8 successful and totally diverse businesses, from a hi-tech IT company, a fuel distribution business and a vegetable farm.
Wealth Woman – Miriam Quiambao.
Beauty Queen Miriam Quiambao shares her exciting life journey with you; learn how putting God over your entire life and finances is the key to all success.  Aside from being a famous TV personality and corporate speaker, Miriam also runs her own Real Estate company, managing multi-unit dwellings.
Pioneer Man – Benedict Hernandez
Benedict Hernandez is now the President of Accenture Philipppines.  You can say that Benedict was the one who started the Call Center and BPO industry in the Philippines. He can teach you how to take your career to the next level, how to perform your best and move forward in your company.
Doctor Rich.
Larry Gamboa, PH. D. author of "Think Rich Pinoy!" and three other best selling books, professor at La Salle and passionate online marketer.  He keeps pushing everyone to learn, learn, learn.  Larry can teach you how to convert Houses into Cash Cows.  Get an idea of how he creates passive income by buying foreclosed properties and properties from motivated sellers.
Catering Crusader.
Steve Tamayo, owner and President of one of the largest and most successful catering companies in the country today, Tamayo Catering.  Steve started as a fisherman, janitor, and waiter.  Be inspired at the zigzagging journey he took to the incredible success that he enjoys now.
Mister Volt
Ronnie Siosoyco, founder of Trion, the biggest producer of electric meters in the country today. Ronnie is a serial entrepreneur. He can't stop expanding and growing and multiplying his businesses. Absorb the Entrepreneur Mindset from Ronnie, to launch your own profitable enterprise.
Money Magneto.
Jomar Hilario, online marketing guru, will teach you how to turn your computer into an ATM. To this day, Bo Sanchez depends on his advice for his many online marketing campaigns.  Find  out how to create income through a viable online business or as a Virtual Assistant, earning dollars while living in the Philippines.
Debt Destroyers.
Benjie and Fely Santiago, are a power couple for International Marketing Group, a financial education and financial services company.  Once upon a time, they were buried in debt.  But they broke free and now go around the world helping others get out of debt as well.  The now have 5,000 members in their organization called Truly Rich Makers.
Planet Girl
Maves Angeles, President of Happy Homes Manila buys, builds and sells apartments, multi-unit buildings and houses.  Find out how she started buying small foreclosed properties from motivated sellers, and how she moved to bigger projects today.
Property Prince.
Ronald Cagape has been buying foreclosed properties(residential and commercial) and properties from motivated sellers for several years.  He resigned from his high-paying IT job to expand his real-estate business full-time.
The Brain
Paolo Abadesco, owner of BuildClubs.com ( and many other online businesses ) shares how anyone can build a membership club to help Entrepreneurs strengthen relationships with customers. Paolo is Bo's secret weapon for creating all the computer systems for all of his businesses.
Radical Man
Jan Hildao was only 19 years old when he embarked on his journey that brought him to where he is now. Founder of Radical Millionaires and co-author of the book "Rich Real Radical" . Jan never finished college but is now earning a 6 to 7 digit income as an online marketer, networker, speaker, author and trainer, doing the things he loves.
Wonder Writer.
Sha Nacino is a prolific author. At her young age, she has already written many books such as "How to Make Your Dreams Come True", "Who Took My Hard Earned Money" and "How to Earn While on Vacation."  Catch her refreshing thoughts at www.seminarphilippines.com
Stocks Multiplier
Mike Vinas, Director, Stocks Update, raised up in both the world of money(his mother is one of the best fund managers of the country) and the world of faith (had a spiritual conversion at the age of 12).  Today he works for COLFinancial and the TrulyRichClub, and serves at the Light Of Jesus Family.
Comments
Facebook Comments